HE MUST BECOME GREATER; I MUST BECOME LESS. JOHN 3:30
We are currently out of space in some services, and the growth continues. Our mission is not to become a big church. It is to reach people who are far from God and do church in a way that is applicable to them. We simply need more space to accommodate more people.
Mosaic purchased an existing building that needs extensive renovations. The GREATER campaign will raise money for the renovation costs. Work will begin as soon as possible in 2018, and the first services at the new facility will be held by the end of 2018.
$2,000,000
Mosaic committed over $2.7 million! Thus, will be in great shape financially and won't need to change how we do ministry. In fact, our mortgage will be the same proportion of our costs that our rent is currently.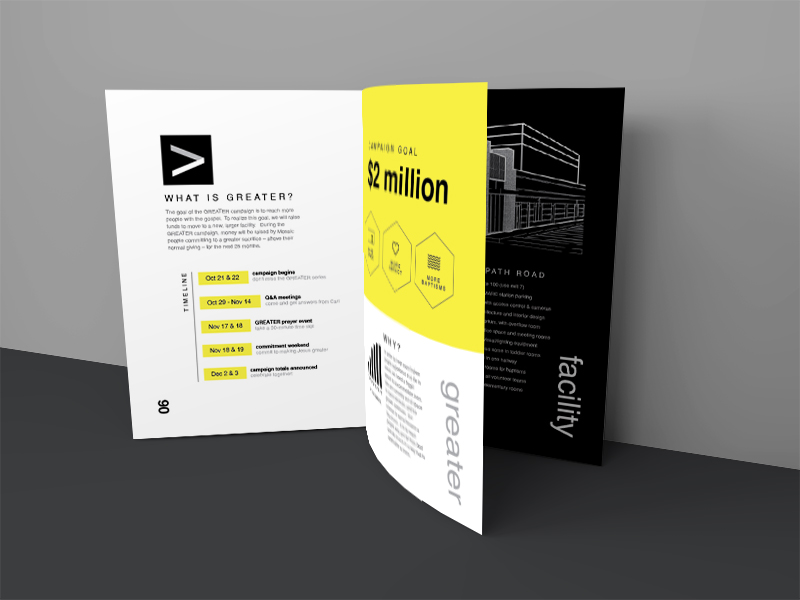 Location
6845 Deerpath Road is the new building location. It's visible from Route 100 (we'll use exit 7), and we will use Dorsey MARC station parking. Professional architecture on the outside and inside provide a big transformation from the building's current state.
Space
The new facility will include an auditorium that will seat 1,049, ample kids' space, plus plenty of extras (overflow room, storage for volunteer teams, movable walls for flexibility, great office space, lots of restrooms, baptism changing rooms, etc.)
Design and Equipment
Deerpath will be equipped with top-notch features: access control and security cameras, excellent audio/visual/lighting equipment, and professional interior design to make everything look and feel great.
Project Cost
The total project cost is $9.7M, including purchase price of $3.8M, renovations, furniture, and audio/video/lighting equipment. The GREATER campaign will raise money for the renovation portion of the cost.